Can you think of the best ever goal scored?
It is a Chilena or Bicycle Kick (or Scissor Kick) with the football player throwing himself into the air doing an acrobatic to kick the ball and send it in the back of the net! All football lovers go mad about Chilena soccer, it's a goal that sticks in memory and in fact kids try to do it.
We go through the ins and outs of Chilena soccer highlighting the most memorable and crucial Bicycle Kick goals in football history.
Let's kick off.
Are Scissor Kicks considered as fouls?
No they're not, and in fact, they are some of the most spectacular acrobatics you'll come across in a football match. It's a tricky feat to perform with only some of the best players in the world including Ronaldo and Bale have got it down to a fine art.
When is a Bike Kick used?
 A Bike Kick should be performed mainly in two different occasions:
When a striker is in the box and he can't reach the ball with his forehead to head it towards the goal, he performs this acrobatic and puts the weight of his body in a way, allowing him to strongly kick it and maximising the chances of scoring. 
When a defender aims to boot the ball away; it often happens when an attacker swings in a cross and the ball is still in the box bouncing, so a defender performs this acrobatic to not let the opposition create a chance or even score.
Where did Chilena soccer come from? 
There's a debate over where this marvel of football acrobatics originates from. We look at every angle and you can make your own deductions.
Chilean version
Based on what Eduardo Galeano, an Uruguayan anthropologist, claims, Ramon Unzaga was the person who first invented the Scissor Kick at Talcahuano, a port in Chile.
But Ramon himself can't recall the exact date and it's estimated this historical kick was done for the first time around 1914.
Peruvian version
Peruvians have their own version of the Scissor Kick invention stating that it was executed first time in Callao, one of the largest Peruvian ports where it was performed by a member  of a local team that was playing against sailors from Britain.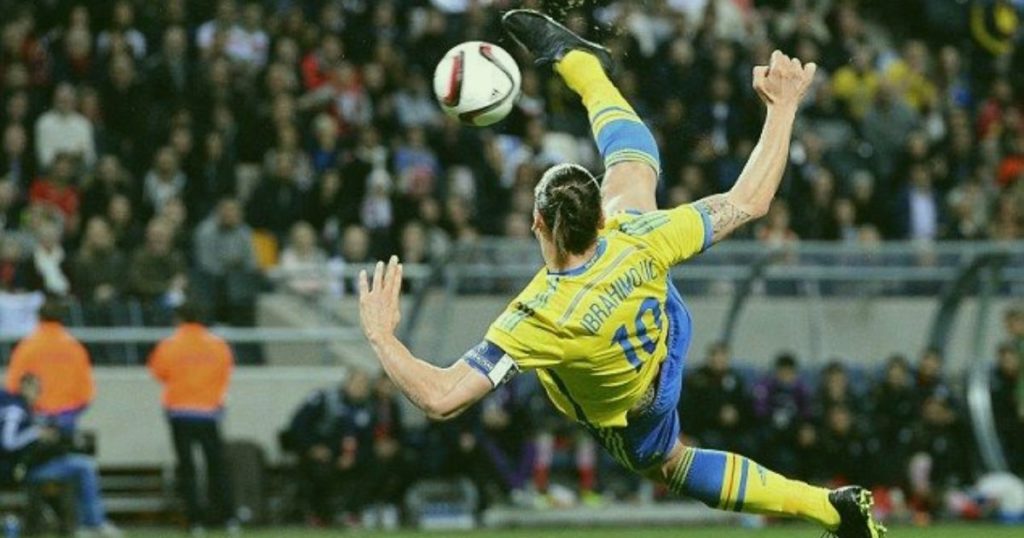 Brazilian version
Brazilians, with such a huge tradition and success in football could have their own version. Leonidas Da Silva was the footballer who first performed 'bicicleta' (this is how it's called in Brazil).
According to the legend, referees were so confused at the start; they didn't know whether to give a foul or even show him a yellow card…
European version
Italians and British also claim this feat as their own conception with Carlo Parola (Juventus's defender) executing it so often that got the nickname 'Signor Rovesciata' (Mr. overhead kick). And Aston Villa's chairman at the time, Doug Ellis, claimed he was the one who invented it during his time at Southport.
Was it Pele who invented the Bicycle Kick?
It seems impossible for Pele, probably the best footballer ever played the sport, to be the first who executed a Bicycle Kick. He started his career in the 60s, but the term was invented well before that.
Did Pele ever score a Bike Kick?
Having scored over 1,000 goals in his career, inevitably some of those were Bike Kicks, and probably the most famous is the one in a game between Brazil against Belgium in 1968, leaving everyone in the stands speechless.
He kept on executing the feat more times with Santos, the team he spent most of his career with.
How to execute a Scissor Kick?
Hermann Schwameder, a motion expert states that courage is the main element of executing a great Bike Kick while Klaus FIscher, a former German football legend who scored one of the most memorable and astonishing Scissor Kick claims that a cross that forces a player to perform the feat isn't good. 
Here are a few steps you'll need to keep in mind to perform a Bike Kick:
On no account do you take your eyes off of the ball. 
Jump high and bring your body parallel with the ground.
Balance yourself in the air by opening your arms.
Kick the ball with your good foot pointing at the goal.
Position your arms towards the ground to break your fall.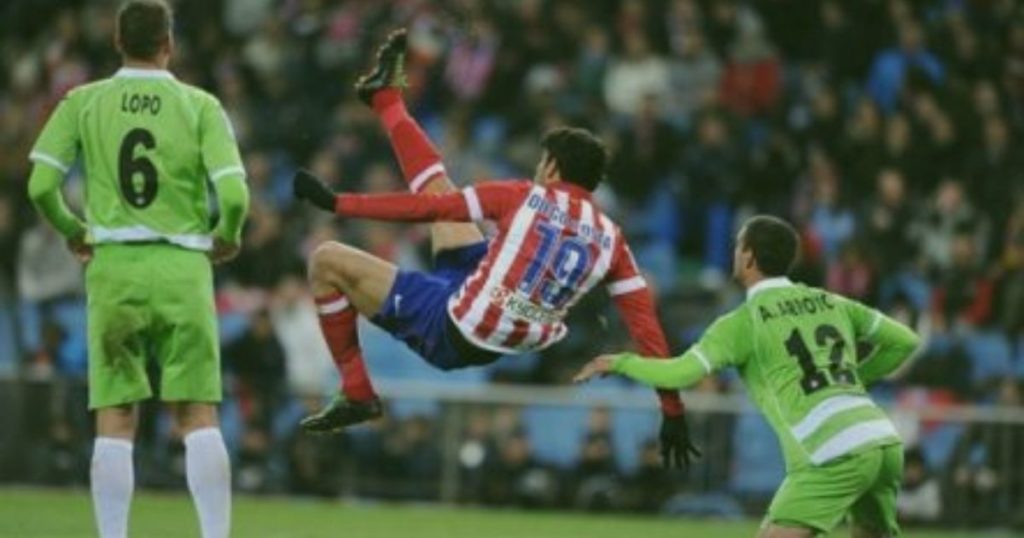 What's the best Bicycle Kick in football history
Here are some of the Bike Kicks that often people refer as the best:
Klaus Fischer in the World Cup semi finals in 1982 between West Germany and France.
Zlatan Ibrahimovic in a friendly game in 2012 between Sweden and England.
Ronaldinho in a La Liga game between Barcelona and Villareal in 2006.
Cristiano Ronaldo in the Champions league semi finals in 2018 against Juventus.
Peter Crouch (considering his unusual height for a footballer) in a Champions league game between Liverpool and Galatasaray in 2006. 
Rivaldo in a La Liga game between Barcelona and Valencia in 2001.
Gianluca Vialli for a match between Juventus and Cremonese in 1994.
Zico in the World Cup match between Brazil and New Zealand in 1982.
Aritz Aduriz in a match between Bilbao and Barcelona in 2019. 
Diego Costa in a match between Atletico Madrid and Getafe in 2013. 
You can watch 70 of the best Scissor Kicks here: 70 Best Bicycle Kick Goals In Football
Has a Chilena goal ever been scored in a Champions League final?
Two Bike Kick goals that stand out among others are one by Mario Mandzukic in the final between Juventus and Real Madrid in 2017 and the other from Bale in the 2018 final between Liverpool and Real Madrid.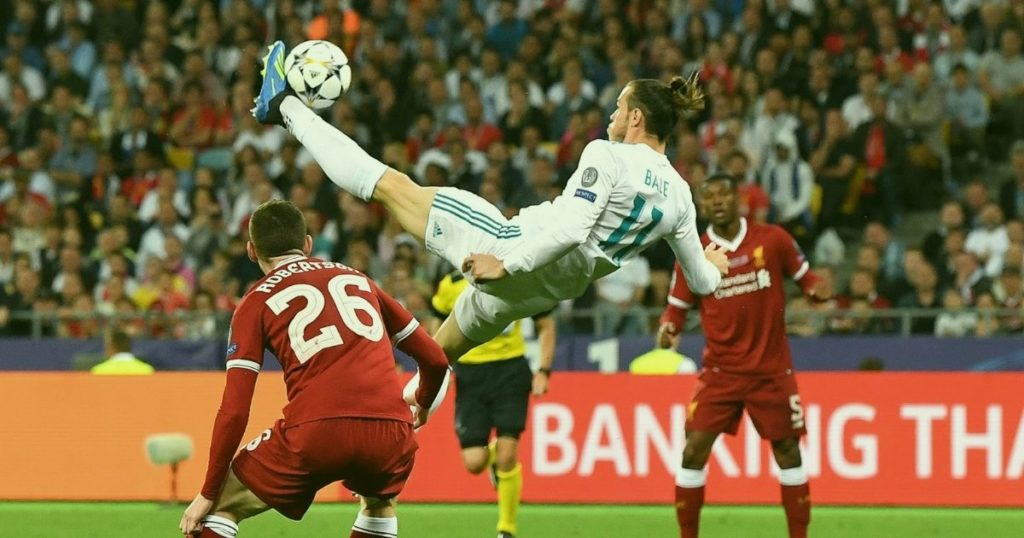 Bottom Line
A Bicycle Kick is one of the most impressive goals in football; it seems every football fan can recall some of them that've stuck in memory. If you've managed to come this far and read the whole article you've enriched knowledge about football, and particularly Scissor Kicks.
FAQ
Who invented the banana Kick in football?
Roberto Carlos (probably the best left back in football history) scored an astonishing free kick, giving the ball a curve that almost every spectator thought at first that the ball was going wide off target. Because it was such a unique feat, football experts had to come up with a new name: banana kick. 
When did Roberto Carlos score that free Kick? 
It was on 3rd of June in 1997 in a friendly game between France and Brazil; it can easily be one of the best goals (if not the best) scored in a national-team friendly game. 
Who invented the knuckleball freekick?
Didi, a Brazilian player known as the inventor of this extraordinary way to execute free kicks,  Ronaldo, Juninho and Drogba are some of the top players who adopted it and scored plenty of goals.