Empty stadiums and the subs are watching the game with their masks on. Handshakes are replaced by fist bumps. Pandemic football. Can we see Spain the usual suspects – they won 2 out the last 3 tournaments – winning it again in this unusual season? Stick around, we're gonna talk about the Spanish team selection, the reasons why it's an interesting team to watch and the possibilities to reach the final.
The cool players and the young blood
The Spanish squad is really balanced with experience from the old and hunger from the youth. Louis Enrique the manager who is in charge has picked players like De Gea, Laporte, Jordi Alba, Azpilicueta, Busquets or Morata who have repeatedly mis mashed the big games in their careers, winning the Champions League, Premier League or La Liga. They won't  be biting their nails before the semi final or final if Spain reach this stage.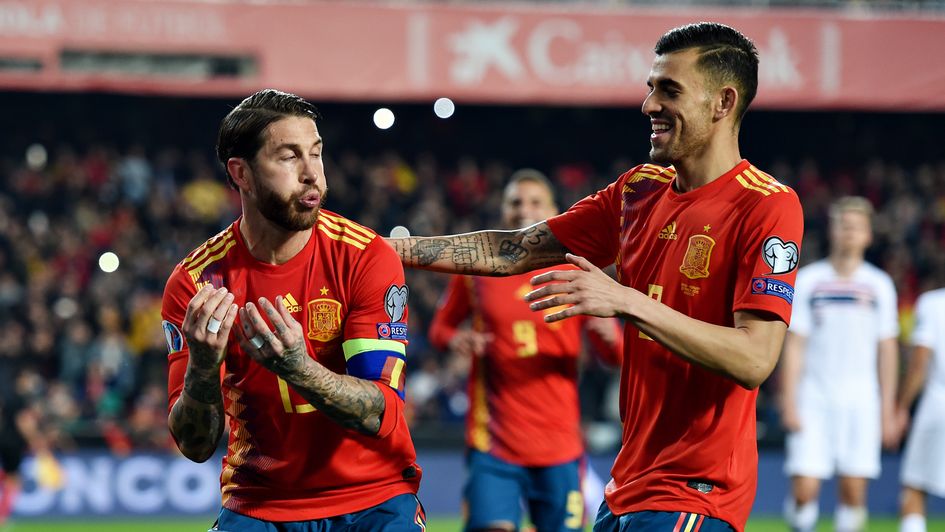 He also picked Rodri, Ferran Torres and Adama Traore who are the young blood hungry and ready to go the extra mile and make history for Spain again. What's better than winning a trophy for your country and making your compatriots feel ecstatic? Top players in every line young and older for La Furia Roja. Can they reach the final? Well, we can't really say. But, what we can say is the Spanish team is one of the interesting teams to watch in EURO 2020.
Why are the Spanish games a must-watch?
As passionate football followers we're curious to watch Spain for three reasons.
First off, no Real Madrid players were selected in the Spanish team for the first time. Ramos, Carvajal – injured – and Asensio are left behind to have longer summer holidays than they had expected. Perhaps, they won't enjoy their time off that much as such rejection seems like a real kick in the teeth. The question is can the national team go far without Real players who are arguably natural-born winners having a bunch of Champions League and La Liga medals each?
Secondly, one question that comes to mind is are they a big team? They have won three major trophies – Euro and World Cup – in three consecutive tournaments from 2008 till 2012 but since then they haven't achieved anything Woow-what-they-did-again. Was it just that time for them or can they prove they can follow Iniesta's, Xavi's and Puyol's stepand beat every team that crosses paths with them. 
Thirdly, their style of football is pleasing to the eye. Tiki taka, movement off the ball, dribbling, beautiful build up, fantastic finishing are some of the elements of their play. It is delicate and gripping. You won't be cooking your dinner or talking on the phone when their game is on.
Bottom line
We're watching pandemic football. Are Spain – a team that has done pretty well in Euro cups – able to reach the final this time? Well we can't say for sure. But, this is a must-watch team in this tournament.
Who do we got winning? Well, that's exclusively for our members to know. More information about our premium service inside our Membership section of the website!
If you are not ready to join the VIP Group, we welcome you to check out our FREE sports betting picks to get the confidence needed as we make sure all our followers are able profit.
Our team of sports analysts are posting the best FREE sports betting predictions daily on Twitter and on our Telegram channel.
Don't miss your chance to increase your chance of winning on sports. Let's win and celebrate together! 🍻
Tune in the Betting, Membership and Sportsbooks section for more valuable thoughts and insights. 🧠